First Look at Andrea Pirlo's Juventus: Tactics, Principles & What to Expect.
While there is a lot of talk going on with regard to the lack of experience as a first-team coach at the top-flight level, how exactly did Juventus look under Andrea Pirlo on his Serie A debut?
Photo: Twitter JuventusFC
The arrival of Cristiano Ronaldo, Antonio Conte's return to management with Inter, Atalanta's attacking football, Lazio's burst into the top three, Gattuso fighting back the crisis at Napoli, Ibrahimovic leading Milan back to winning ways…. While there are already enough reasons for someone to be excited about Serie A, here we are welcoming yet another addition to Italian football; Andrea Pirlo, The Manager!
For someone who vowed to never get into coaching or management not too long ago, Pirlo has certainly made a huge decision by accepting a club as big as Juventus as his first ever. Any football lover who has come across Pirlo the player, would know that falling in love with watching him play used to happen instantly or eventually but it was hard not to at all. With the way he used to find pockets of space to receive the ball, dictate the tempo, progress play into the final-third and create chances out of nowhere with his hawk-eyed vision, it was evident that he already had a thorough knowledge, ability to read and understand the game.
However as cliched as it sounds, playing football and coaching a team are two totally different situations and there is no guarantee that a successful player will go on to become a successful coach. Having said that, there are some who have been successful in both careers and we can only wait and watch if Pirlo would turn out to become one such exception himself. So, what do the early signs say?
Coaching Principles & Objective.
"The founding idea of my football is based off a will that is: purposeful, possessive and attacking. I want total football. The two principals of my football are: we must keep the ball for as long as possible and be ferocious in winning it back immediately. The teams that inspired my ideas as a football coach were: Cruyff's Barcelona, then Guardiola's, Van Gaal's Ajax, Ancelotti's AC Milan & Conte's Juventus."
These were Pirlo's words when asked about the foundation of his team's principles and how he would like to set them up. He wants his team to focus on not only keeping the possession of the ball but to have meaningful possession spells which translate into fruitful chances. Regaining possession as high and as quickly as possible is also one of the key characteristics he wants to instill. From what we saw against Sampdoria, it did seem like Pirlo's Juventus checked all boxes. So how exactly were they setup and what in terms of tactics, can we expect from Pirlo in his debut season as a manager?
Formation
Juventus maintained two different formations throughout the game: one when they have the ball and one when they don't have the ball. By doing so, Pirlo has already shown that he is well aware of the basics of setting-up a team despite having no experience. The reason is simple; A team in possession of the ball and a team not in possession of the ball have completely different functions to carry out with different objectives in mind.
While it is not impossible to maintain one single formation during all phases of the game, there is a need for our players to occupy different spaces when we have the ball and a need to deny different spaces when we don't have it. After all, the most basic objective of a team is to score goals and not concede and it is the coach/ manager's duty to provide their team with a setup that will enable them to achieve both objectives in the easiest way possible.
Formation in possession: 3–4–1–2
Juventus shape when in possession
While in possession, Juventus adapted a 3–4–1–2 shape, ensuring enough numerical superiority in the first phase for build-up without having to give up on width or depth. The preference was to keep possession of the ball while playing out from the back using the goalkeeper (Szczesny) and a 3–2 shape. The 3–2 here refers to the 3 defenders (Danilo, Bonucci & Chiellini) and 2 midfielders (McKennie & Rabiot) to be additional passing options beyond opponent's first line of press.
Asymmetry in width
The 3–2 shape in build-up in the first-third with three defenders and two central-midfielders. Cristiano Ronaldo, Aaron Ramsey & Dejan Kulusevski stay narrow in the central areas while Cuadrado & Frabotta (circled black) provide the width.
As Danilo joined the two center-backs to form a back-three in possession, Pirlo opted to go for asymmetry to provide width to Juventus in possession. On the left flank, Gianluca Frabotta bombed forward to be the attacking outlet while on the right flank, it was Juan Cuadrado who was the attacking outlet. The advantage of asymmetry especially while playing out from the back is that, the opponent's attackers or the first line of pressure find it complicated to close down.
A typical high-press pattern has the striker on one of the center-backs, left-winger on the right-back, right winger on the left-back and so on. With Danilo staying back with Bonucci & Chiellini, the opponent would have to commit their front-three to press high, which would mean that left-back Frabotta or Cuadrado on the right are likely to be free. So the back-three was all about drawing pressure from Sampdoria to create gaps in other areas of the pitch, which can be utilized to progress play.
Seconds before the opening goal: Danilo is about to receive the ball and attracts pressure from Sampdoria winger Mehdi Leris. Owing to this, Kulusevski (circled yellow) gets free in the right half-space. The full-back cannot follow Kulusevski as Cuadrado (circled black) is providing the width on the right flank.
Danilo is seconds ahead of the Sampdoria winger Leris as he sees the gap and plays the oncoming Kulusevski, who connects with Cuadrado and after a couple of passes exchanged, its 1–0. The back-three managed to draw the front-three of Sampdoria into pressing them and created gaps in the middle to lead to the opener.
Fluid front-three
Cristiano Ronaldo & Dejan Kulusevski were almost acting as a front-two with Aaron Ramsey as the connector between midfield and attack. The front-two were more of wide forwards who wanted to dominate the half-spaces (Ronaldo on the left and Kulusevski on the right). The main reason why Juve were able to convert their long spells of possession into real threatening chances was owing to the dynamic movement shown by Ronaldo, Kulusevski as well as Ramsey. For majority of the first half, the three were positioned high, narrow and close to each other. It was almost like a front-three who pinned back the opposition's last line of defense.
Aaron Ramsey had maintained a close, narrow positioning along with the front-two of Ronaldo & Kulusevski as they pinned the back-four with the width being provided by Cuadrado & Frabotta (circled black).
However in the second half, Pirlo had made a small tweak to his attack with Ramsey withdrawing from his high positioning into a deeper role, more like a typical number 10. After this change, Juve were able to get the best out of Ramsey as they were more direct, more vertical and progressed play into the final third by playing into the Welshman's feet. We will see more of this later.
60 seconds of Juventus in possession: They start by playing out from the back with Szczesny and try to disorganize Sampdoria's defensive structure without rushing into attacks. They wait for the right moment to progress play into the final-third. Until then, they simply try to move Sampdoria from one flank to another or draw them out of position by inviting pressure.
Positive Transition
On winning the ball back, Juve prioritized on securing possession more than initiating counter-attacks or quick breaks. Again this is not a black-and-white rule that applies throughout the game but the general preference was to start possession spells from the back using Bonucci, Chiellini & Danilo.
Formation when not in possession: 4–4–2
It looked like Juve had a clear plan in place on how to approach the opponent when not in possession and executed it to perfection. Pirlo's men adapted the traditional flat 4–4–2 shape with Ronaldo & Kulusevski forming the first line of pressure while Ramsey & Cuadrado joined the central-midfielders to form the second line of four and Danilo, Bonucci, Chiellini & Frabotta forming the last line of defence.
Juventus maintaining the 4–4–2 shape in all phases of the pitch. Please note that these images didn't occur immediately after one another in the game, it is to give you an idea of the shape in different thirds of the pitch.
Pirlo did mention about his desire to win the ball back as high up the pitch as possible but this definitely didn't mean that he wanted his team to press anyone and everyone who had the ball blindly with maximum intensity. It was rather a combination of hard work and smart work by Juventus as they excelled in keeping their opponents far from goal. Sampdoria had just 1 shot on target in the entire game and this is why Juve's work off the ball needs a special mention here.
The Italian Champions were more than happy to let Sampdoria goal-keeper Emil Audero have the ball and remained passive in their pressing around the penalty area. There was almost never any pressure applied on Audero, rather focusing on maintaining a 10 v 10 inside the pitch simply because the moment a player is sent to close down the goalkeeper, the defending team is under the risk of leaving someone else free in the outfield. While Audero completed all of his short-passes comfortably, there were no clear gaps in Juve's defensive structure for Sampdoria to utilize. Therefore, it didn't matter how many passes Audero and Sampdoria's center-backs exchanged between themselves, Juve were always organized.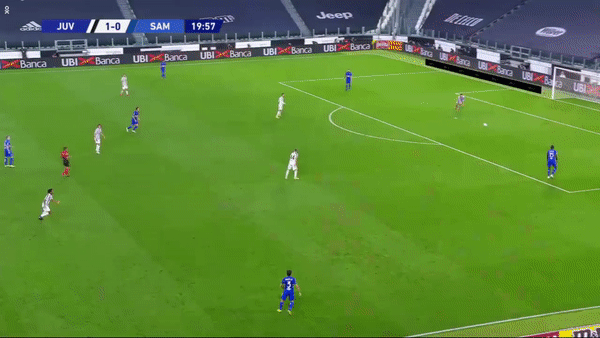 A sample clip of Juventus' pressing: They remain passive around the penalty area and allow time on the ball for the goal-keeper and the center-backs. The pressing becomes active and aggressive as the opponent enters the middle-third.
Once Sampdoria progressed play into the first-third and gradually attempted to enter the middle-third, that's when Juventus' pressed relentlessly. Juve maintained an extremely low PPDA (Passes Per Defensive Action) of 6.79 or in other words, there was a pressure attempt for every 7 passes made by Sampdoria. Looking at pressing from another perspective, Juventus had made 154 pressure attempts despite having about 66% possession.
Is this number high or low? Let's take a look at some other teams who like to dominate the ball and maintain high-intensity pressure.
Juventus vs Sampdoria in comparison to the 2019–20 season average of teams who dominate possession and press intensely. This is not to find out who is better but simply to give you an idea of Juve's work off-the-ball.
As you would be knowing, teams with over 65% possession wouldn't have high number of pressure attempts as their opponents obviously have much lesser of the ball and hence the scope to press itself is limited. This should give you an idea of why it is a big deal to have over 150 pressure attempts when the opponent has the ball only for 35% of the game. The secret sauce of Juve was not to press blindingly high up the pitch but to ensure that they have a defensive shape that covers the right zones, leaves no clear passing option open for access and then press with high intensity.
Negative Transition
While Juve did counter-press on losing possession in an attempt to stop the opponent from progressing forward quickly, it was not at the cost of losing their shape/ structure. The nearest player to the ball was usually in charge of the counter-press with the others just covering the safe passing options to encourage the opponent going long and risk losing possession. If it wasn't possible, Pirlo's men simply ensured their organization was in place and went back to defending. In short, defensive shape was always the priority with a risk-averse approach to counter-pressing.
Here you can see how Ramsey & Kulusevski lead the charge in counter-pressing on losing possession, however the midfield line realize that there would be too many gaps if they commit to pressing and backed off to maintain the shape.
Key Players in the system.
Although it has just been one game, there is no shame in admitting that the system worked wonders for Juventus. However there are certain players who deserve a special mention as they may go unnoticed while they are actually the key to make the system work:
Aaron Ramsey
Andrea Pirlo deployed Aaron Ramsey in a role tailor-made for the Welshman and was able to get a brilliant performance out of him.
Aaron Ramsey had probably the trickiest role in the system and yet came through with flying colours. His positioning, movement and decision-making were key to converting spells of pos